Events
"Makoto Shinkai Exhibition: Voices of a Distant Star to Your Name" is coming to Busan, Korea!
The popular Makoto Shinkai Exhibition will be held in Busan, South Korea beginning December 14th. It will be the exhibition's fourth time overseas following stint in Taipei, Taiwan and Seoul, South Korea, and Shanghai, China.
This exhibition celebrates the fifteenth anniversary of Makoto Shinkai's debut, and uses storyboards, concept art, animation, background art, and video primarily from his six most well-regarded works, as well as molded objects that help to convey his worlds, to help express the beauty and wonder of the animation of Makoto Shinkai. Following the example of the Japanese and Taipei exhibitions, the venue will incorporate uniquely Korean presentation methods to create an exhibition that draws the visitor into the world of the work.
Busan is a city of film, and even holds an international film festival. Makoto Shinkai even visited Busan a year ago when Your Name was broadcast there. This will be the exhibition's last stop in Korea, so we hope that both residents of Korea as well as those visiting Korea will take advantage of this opportunity.
【Period】 14 December 2018-3 March 2019
【Closed Days】 Mondays (Except operating 12/24, 12/3, and 12/4)
【Location】 Busan BEXCO 2nd Exhibition Hall
【Exhibition Times】 10:00 AM-6:00 PM (last entry 5:30 PM)
【Price】 Adults (19 and over) 15,000 won; Youth (Junior/Senior high school students) 12,000 won; Children (36 months-primary school) 9,000 won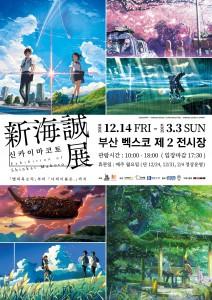 Exhibition details (international site)
http://ticket.interpark.com/Ticket/Goods/GoodsInfo.asp?GoodsCode=18015320